WEIRD NEWS: D'oh! Nation
A California man is breathing a huge $8,000 sigh of relief after he mistakenly made an enormous donation to Goodwill.
65-year-old Bob Hoffmann gave his wife Linda a pile of old clothes to donate to Goodwill, including an old orange shirt. He had forgotten that inside a pocket of the shirt was an envelope containing $8,000 in cash. Bob was keeping the secret stash to surprise Linda with a trip to Italy. But after finding out that a family member had fallen on some hard times, he decided he would use the saved money to help them out.
Linda dropped off the clothes and it wasn't until two days later when Bob realized what he had done. He panicked and told Linda all about the money left inside the shirt. The two of them then headed over to Goodwill and searched through bags of donated items, but couldn't find the shirt. The next day, a worker called to let them know that while she continued searching overnight, she found the shirt and the cash. The couple was so relieved and thanked the Goodwill staff with a giant pizza party. As for the cash, Bob did the smart thing and put it in the bank.
---
WEIRD NEWS: Bite, You're on Candid Camera!
A man in Washington D.C. bit off more than he could chew after sneaking into a local TV station stark naked — and then chomped on the arm of a cameraman who tried to drag him out of the newsroom.
Mark William Baker rammed his shoulder into a side door at WRC television before finally gaining entry, then ran around screaming incoherently, without a stitch of clothing on. Most staffers cleared out in a hurry, but a technician who's responsible for running the station's robotic cameras decided to step in and knocked Baker to the ground, only to have the 20-year-old sink his teeth into his arm, breaking the skin and drawing blood.
Baker has been charged with simple assault and unlawful entry and must appear in court on February 27th.
---
WEIRD NEWS: Squirrel Goes Nuts, Attacks Crook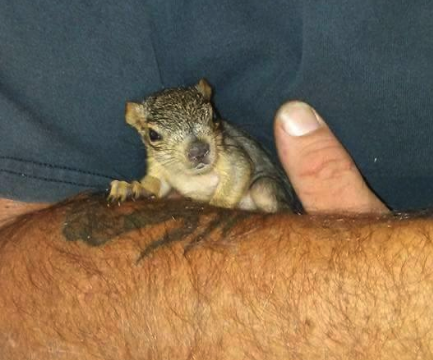 A burglar in Idaho had to turn tail and run after he broke into a house and got attacked by his victim's pet squirrel.
Adam Pearl says he came home and immediately sensed something strange in his home, then noticed that someone had tried, and failed, to break into his gun safe. He called cops to come out and survey the scene, and when a female officer arrived to check things out, his trusty rodent pal Joey came out to greet her.
The deputy asked Pearl if Joey was friendly, and was told he was, but "you never know, since he's a squirrel." She took note, then left to file her report, but came back a few hours later with most of the items that had been stolen from Pearl's place, along with a confession from a suspect she'd hauled in. The cop said she asked, 'Did you get that from the squirrel?' and he says 'Yeah, damn thing kept attacking me and wouldn't stop until I left.'"
Joey received a reward for his trouble — a bag of Whoppers candy, his favorite treat.
---